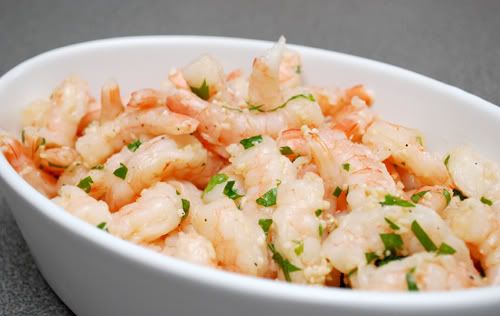 Here's a really simple appetizer that you can throw together in about 10 minutes. Lemon and garlic make a great combination of flavors and this is sure to be a hit at your next party. This would even be great as a meal, heated and served with angel hair pasta.
Source:
EatingWell.com
Ingredients:
3 tablespoons minced garlic
2 tablespoons extra-virgin olive oil
1/4 cup lemon juice
1/4 cup minced fresh parsley
1/2 teaspoon kosher salt
1/2 teaspoon pepper
1 1/4 pounds cooked shrimp
Directions:
Place garlic and oil in a small skillet and cook over medium heat until fragrant, about 1 minute. Add lemon juice, parsley, salt and pepper. Toss with shrimp in a large bowl. Chill until ready to serve.
Make Ahead Tip:
Cover and refrigerate for up to 2 hours.
Nutrition:
Per serving: 73 calories; 3 g fat (0 g sat, 2 g mono); 92 mg cholesterol; 1 g carbohydrates; 0 g added sugars; 10 g protein; 0 g fiber; 154 mg sodium; 108 mg potassium.