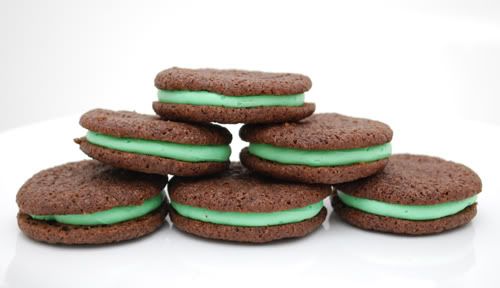 So today my car is in the shop I'm stuck at home because Aaron is in Columbus for the Arnold Classic (He even met Arnold and Sylvester Stallone!). After a day of sorting baby clothes, laundry, and cleaning up, I decided to make another small mess and bake some cookies. Oreos sounded good for some reason and I came across this recipe. The strange thing is as I was reading the comments, I learned that TODAY is Oreo's 97th birthday! How weird is that? I think it was a sign that I was meant to make these today. I went for a mint version - putting 1 tsp. of the vanilla extract and only 1/2 tsp of mint extract with a little green coloring. I also ran out of flour, so I had to use a little whole-wheat flour. I used 1/4 cup whole wheat and 1 cup AP.
I didn't realize the cookie would spread so much as it baked, so my first pan came out as jumbo size oreos. So I scaled back the next pan and they came out closer to real oreo size. The cookie is a little bit crispy, the filling minty and creamy. Yum!
As I rolled and flattened cookies, Caitlin sat on the counter next to me and practiced sucking her thumb. See?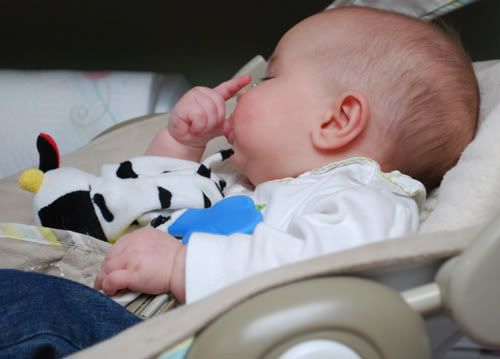 Source:
Cupcake Project
Cookie Ingredients:
1 1/4 C all-purpose flour
1/2 C unsweetened cocoa
1 t baking soda
1/4 t baking powder
1/4 t salt
1 C sugar
1/2 C plus 2 T butter, room temperature
1 large egg
Cookie Directions:
In a medium-sized bowl, mix the flour, cocoa, baking soda and powder, salt, and sugar.
Beat in the butter and the egg. Continue mixing until dough comes together in a mass.
Take rounded teaspoons of batter and place on a parchment paper-lined baking sheet approximately 2 inches apart. With moistened hands, slightly flatten the dough.
Bake for 9 minutes at 375 F. Set on a rack to cool.
Filling Ingredients:
1/4 cup room-temperature, unsalted butter
1/4 cup vegetable shortening
2 cups sifted powdered sugar
2 teaspoons vanilla extract
Filling Directions:
Place butter and shortening in a mixing bowl, and at low speed, gradually beat in the sugar and vanilla.
Turn the mixer on high and beat for 2-3 minutes until filling is light and fluffy.
To make a cookie, pipe teaspoon-sized blobs of cream into the center of a cookie using a pastry bag with a 1/2 inch round tip. (If you don't have a pastry bag, you could easily just spread the filling with a knife or use a Ziplock with the corner cut off as a pastry bag.)
Place another cookie, equal in size to the first, on top of the cream. Lightly press, to work the filling evenly to the outsides of the cookie. Continue this process until all the cookies have been sandwiched with cream.