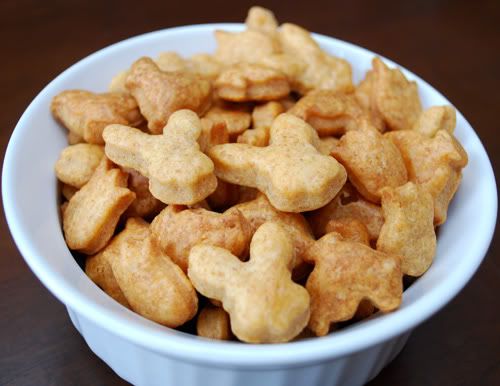 Cheez-its are quite possibly the most addictive snack ever. I can't buy them. I will eat the whole box! Of course I was immediately drawn to this recipe when I saw the picture of those little crunchy, cheesy crackers. It's ok to make them at home though...yeah, that's what I told myself.
I never guessed making crackers would be this easy. Since I had my food processor out for the one-ingredient ice cream, I decided to go ahead and try this too. That sucker weighs 28 lbs. YES - twenty-eight! I don't like getting it out very often because of that and the fact it's a pain to clean all the parts. I think once I start making baby food, it will have a nice home on my kitchen counter. Until then, it's not so easy to drag out of the cabinet and I use it as little as possible.
Back to cheez-its. I followed this recipe, but substituted half of the flour for whole wheat flour. The crackers came out great. They were crispy, cheesy, and poofed up quite a bit. I think next time I would not refrigerate as long before rolling, and maybe even roll them thinner to keep them from getting as puffy. Aaron thought they needed more salt, but that's just personal preference.
Source:
Home Cooking
Ingredients:
1 cup all-purpose flour
3/4 tsp. salt
1/2 tsp. ground pepper (optional)
4 TBSP cold unsalted butter, cut into small pieces
8 ounces grated cheddar cheese
3-4 TBSP water
Directions:
Pulse the flour, salt and pepper, then add butter and pulse until the mixture resembles coarse meal.
Add grated cheese a little at a time until the mixture again resembles coarse meal.
Pulse in 3 to 4 tablespoons of water, one tablespoon at a time, until the dough forms into a ball. It will probably take a minute or so. (I ended up using 3 TBSP)
Remove, wrap in plastic, and chill for 20 minutes or up to 24 hours. I left mine overnight. This way the butter has time to solidify and I think makes for puffier crackers.
Roll the dough out to 1/8th-inch thickness directly onto a baking sheet. You don't want to roll them paper thin, neither do you want to roll them too thick. If they are too thin, they will not puff up as much. If they are too thick, they will not be as crispy.
Using a knife or pizza cutter, cut 1 inch squares. Or, if you're like me and know the chances of making mini roll-out sugar cookies is pretty slim, use your cutters here! I made little spring crackers of bunnies, chicks and tulips.
Bake at 350° F for 15-20 minutes or until crackers are golden brown. Watch them after the 10 minute mark.