Hello? Anyone still with me? I realize it has been months since I've posted an update, but I'm back now. I've had my baby girl - here she is - Caitlin Elise!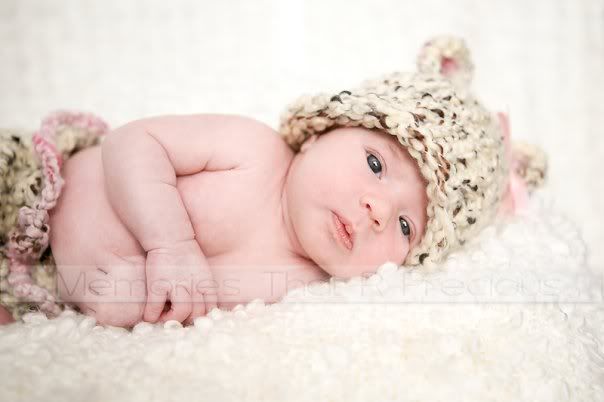 I'm still cooking, but not so good at photographing & posting what I'm making on my blog. I'll try harder to post more regularly. I've been reading other blogs all along, so I have been saving recipes to try and I'll admit, most of them are sweets.
No time to waste now. On with the post, before Caitlin wakes up!
I made some pumpkin cookies and brownies not long ago and had some leftover pumpkin to use. I needed a recipe that called for 1 cup of pumpkin. I chose these cupcakes and they turned out great. I threw in a really ripe banana, too - just because we had it and I didn't want to throw it away. The cupcakes are really soft and moist, not overly pumpkin-y, and they don't need frosting (yay, saved me more time).
Source:
My Baking Heart
Ingredients:
1 pkg spiced cake mix
1 pkg (3.4 oz) jello vanilla instant pudding
1 cup canned pumpkin
1 pkg (8 oz) cream cheese, softened
1/4 cup sugar (or 2 tbsp Splenda for Baking)
1 egg
Directions:
Heat oven to 350 degrees F. Prepare cake batter as directed on package. Add dry pudding mix and pumpkin; mix well. Spoon batter into 24 paper-lined muffin cups.
Beat cream cheese with mixer until creamy. Blend in sugar and egg; spoon over batter. Swirl gently with small spoon.
Bake 18-21 minutes or until toothpick inserted in centers comes out clean. Cool before serving.