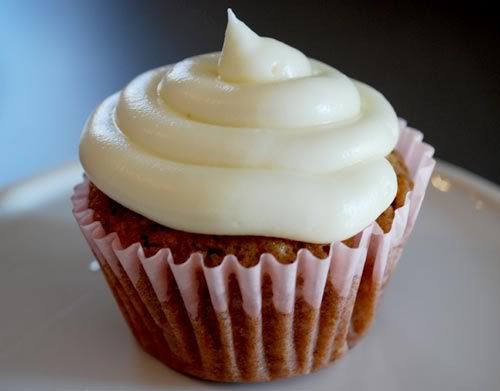 Overgrown zucchini were taking over our kitchen counter. We've been eating zucchini on the grill, zucchini in spaghetti sauce, stuffed zucchini, zucchini fritters and roasted zucchini, but I figured it was time for something sweet. Sure, I could make more zucchini bread, but we already have some of that in the freezer and I was ready to try a new recipe. I found this cupcake recipe on
Erin's food Files Blog
and comes from Martha Stewart Cupcakes. I loved that I didn't even have to pull out the mixer for this (except for the frosting). Everything was easily combined with a wire whisk. They are moist (I threw in a browning banana we had, too), fluffy and the cream cheese frosting makes them irresistable.
Source:
Martha Stewart Cupcakes
Ingredients:
Yields: 24 cupcakes
3 cups all purpose flour
1 teaspoon baking soda
1/2 teaspoon baking powder
1 teaspoon salt
2 teaspoons ground cinnamon
1/2 teaspoon freshly grated nutmeg
1/4 teaspoon ground cloves
1 cup vegetable oil
2 large eggs, room temperature
1 tablespoon pure vanilla extract
3/4 teaspoon grated lemon zest
2 cups packed light brown sugar
3 cups packed grated zucchini
1 cup walnuts (about 3 ounces), toasted and coarsely chopped
Directions:
Preheat oven to 350 degrees. Line standard muffin tins with paper liners. Whisk together flour, baking soda, baking powder, salt, cinnamon, nutmeg, and cloves. In another bowl, whisk together oil, eggs, vanilla, and zest until well blended; whisk in brown sugar until smooth. Stir in zucchini, then add flour mixture and stir until just combined. Stir in walnuts.
Divide batter evenly among lined cups, filling each three quarters full. Bake, rotating tins halfway through, until a cake tester inserted in centers comes out clean, about 20 minutes. Transfer tins to wire racks to cool completely before removing cupcakes. Cupcakes can be stored overnight at room temperature or frozen up to 2 months, in airtight containers.
Now for the
Cream Cheese Frosting:
You must make this frosting to go with these cupcakes! The recipe does make quite a bit. I even used 16 oz. of cream cheese because I bought 2 blocks and I knew I would never use the other 4 oz. for something else, so why not mix it in? Unless you want to pipe a mountain of frosting on each cupcake (I piped a decent swirl on the tops and still have plenty of frosting to spare), I think 1/2 batch would do just fine.
Ingredients:
1 cup (2 sticks) unsalted butter, room temperature
12 ounces cream cheese, room temperature
1 pound (4 cups) confectioner's sugar, sifted
1/4 teaspoon pure vanilla extract
Directions:
With an electric mixer on medium-high speed, beat butter and cream cheese until fluffy, 2 to 3 minutes. Reduce speed to low. Add sugar, 1/2 cup at a time, and then vanilla, and mix until smooth and combined, scraping down sides of bowl as needed. If not using immediately, frosting can be refrigerated up to 3 days in an airtight container; before using bring to room temperature, and beat on low speed until smooth again.