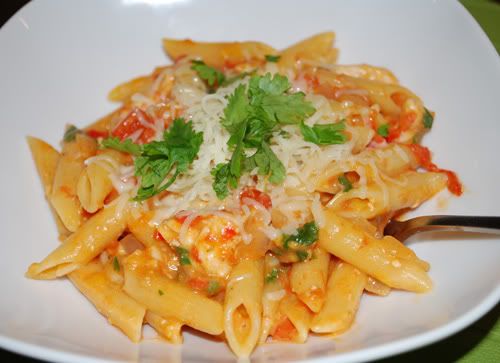 You're probably thinking it's about time I make something other than a dessert! (Don't worry, I do have more desserts planned - but it seems like our dinners have all been repeats or nothing worth blogging lately.) We tried this recipe over the weekend and it turned out really great. It was quick to put together and had nice flavors full of fresh tomatoes, spiciness from the peppers, and a little bit of gooey cheesy goodness.
I made a few adjustments: used boneless/skinless chicken breasts, added a seeded jalapeno, hot banana, and sweet lipstick pepper, and completely forgot the corn (I always forget something!). We both really liked this recipe a lot. It was a bit spicy for me, but I was trying to make good use of our peppers so they didn't go to waste. The tomatoes and garlic also came from our garrden and I like to think the flavor was better than store-bought :) This recipe makes quite a bit and would be good for a crowd or just to have leftovers the next day.
Source:
Food & Wine
Ingredients:
3/4 pound penne rigate
5 tablespoons extra-virgin olive oil
1 pound skinless, boneless chicken thighs, cut into 1-inch dice
Kosher salt and freshly ground pepper
1 onion, cut into 1/4-inch dice
1 large garlic clove, minced
One 28-ounce can diced tomatoes, drained
1 large chipotle in adobo sauce, seeded and minced, plus 2 teaspoons adobo sauce
1/2 cup frozen corn
1/4 pound queso blanco or mozzarella cheese, coarsely grated (1 1/3 cups)
1/4 cup coarsely chopped cilantro leaves
Directions:
Bring a large pot of salted water to a boil. Add the penne and cook until al dente. Drain the penne.
Meanwhile, in a large, deep skillet, heat 3 tablespoons of the olive oil. Season the chicken with salt and pepper, add it to the skillet and cook over moderately high heat until lightly browned, about 4 minutes. Add the onion and garlic and cook over moderate heat until the onion is softened and the chicken is cooked through, about 4 minutes. Add the diced tomatoes, chipotle and adobo sauce and cook until heated through, about 2 minutes. Add the corn, season with salt and pepper and cook until the corn is heated through, about 1 minute.
Add the penne and the remaining 2 tablespoons of olive oil to the sauce and toss to coat. Add 1 cup of the queso blanco and toss. Transfer the pasta to bowls, sprinkle with the remaining queso blanco and the cilantro and serve.