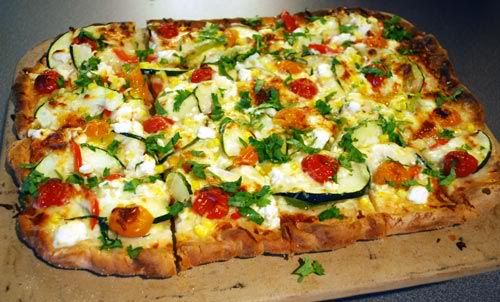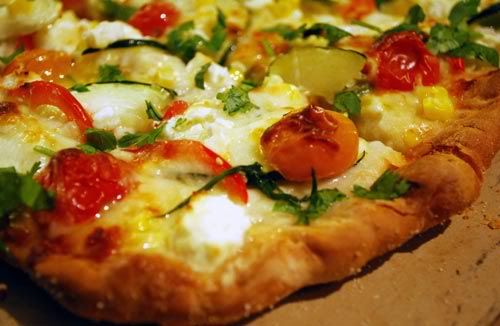 The name is a bit misleading because I modified somewhat, but that's the name of the pizza that inspired this creation. After seeing this pizza on
This Week's Menu Blog
, I knew it would be another good way to use up some zucchini.
I'm not sure if I've ever had pizza without any kind of sauce, and I figured no sauce AND no meat would be pushing the limits with Aaron, so I needed sauce. I decided to try a white garlic sauce, which I've had when we've had pizza out, but never made myself at home. More about the sauce below...
Ingredients:
1 pizza crust (I used a frozen pizza dough)
1.5 cups mozzarella cheese
3 oz. feta cheese
sliced and/or chopped vegetables:
onions
zucchini
ear of sweet corn, removed from cob
bell peppers
cherry tomatoes, halved
...and whatever else you have or like!
Directions:
Preheat oven to 450 degrees. Spread the crust out and bake it on the pizza stone sprinkled with corn meal at 450 degrees for 15 minutes. Then, spread a thin layer of the garlic sauce, half of the mozzarella cheese and the veggies. Sprinkle feta cheese and the rest of the mozzarella on top and bake for 10-15 minutes longer.
After baking, the pizza is topped with cilantro and a squeeze of lime juice. We both really liked this pizza - the vegetables were crunchy and flavorful, especially the fresh sweet corn. It was a perfect summer dinner!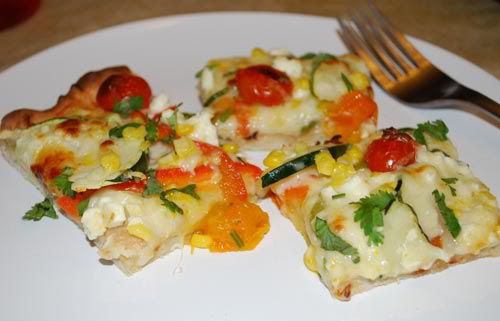 White Garlic Pizza Sauce
I looked at a few recipes to get an idea of where to start and ended up with this sauce...very garlicy & very good. The following can be adjusted to your taste as I didn't measure everything as I went.
Ingredients:
2 tbsp butter
1 tbsp Olive Oil
3-4 tbsp Flour
milk (I used 1% milk and did not measure the amount)
salt
minced garlic
red pepper flakes
Directions:
Melt the butter in a small saucepan with the olive oil. Once melted, whisk in the flour until smooth. Cook for a minute, then begin adding the milk, a little at a time, whisking as you go. I used probably 1-2 cups total. You can adjust to get the consistency of sauce you are looking for. Once the sauce is smooth, it's time to season it up. I added a heaping small spoonful of minced garlic, along with 2-3 spoonfuls of the garlic juice (is it called garlic juice?). Add salt to taste and a pinch of red pepper flakes. I had enough sauce to make 2 large pizzas, so next time I would only make half this amount.