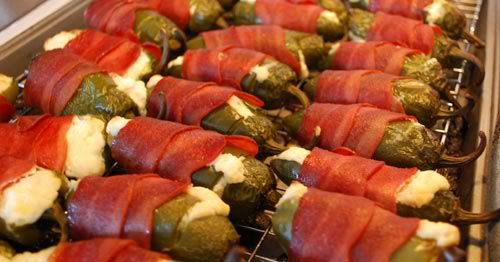 I had these stuffed jalapeños at a party recently and they were great - not too spicy. I knew I'd want to make them myself with jalapeños from our garden, so I did!
To take some of the heat out of the peppers, I seeded them all the day before and soaked them in milk overnight. It's the first time I tried that trick and I can't really say how much it helped, since I couldn't compare the before pepper to the pepper that was soaked. However, most of the peppers were mild enough that I didn't need a drink immediately after eating one. After reading the reviews, I also added a big spoonful of crushed pineapple to the cream cheese. I also used turkey bacon and 1/3 less fat cream cheese to cut out a lot of the fat.
Instead of cutting each pepper in 1/2, I cut a "T" shape into the pepper. I cut a line down the length of the pepper, and a smaller cut across the top below the stem, just big enough to be able to get the seeds out.
Source:
Allrecipes.com
INGREDIENTS
12 fresh jalapeno peppers, halved lengthwise and seeded
1 (8 ounce) package whipped cream cheese
12 slices bacon, cut in half
DIRECTIONS
Preheat oven to 400 degrees F (200 degrees C).
Stuff each jalapeno half with whipped cream cheese. Wrap a half slice of bacon around each stuffed jalapeno half.
Arrange wrapped jalapeno halves in a single layer on a medium baking sheet. Bake in the preheated oven 45 minutes, or until bacon is evenly browned and crisp.