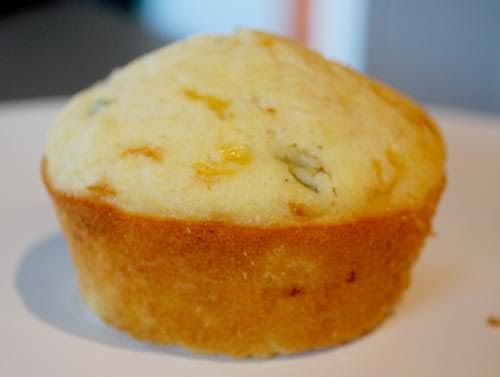 This is one of my favorite things to make to go with pretty much any Mexican style dinner. Normally I would see this long list of ingredients and skip right over the recipe, but most of the items you probably already have. I make one batch (12 muffins) and freeze the leftovers for the next time. It's a quick side - just microwave the frozen muffin for a few seconds (maybe 30?) and it's just like fresh baked. The muffins aren't really spicy (but you could make them as spicy as you like), and still have good flavor and texture between all of the the cheese, jalapeno, corn and honey. They are really soft and would be great with chili!
Source:
Emeril Lagasse
Ingredients:
2 tablespoons butter
1/3 cup finely chopped onions
1 cup fresh corn kernels
Pinch salt plus 3/4 teaspoon salt
1 cup all-purpose flour
1 cup yellow cornmeal
1 tablespoon baking powder
Pinch cayenne pepper
1/3 cup shredded Cheddar
1 cup buttermilk
1/4 cup vegetable oil
2 large eggs
1 tablespoon minced green jalapeno, seeds and stem removed
1 tablespoon minced red jalapeno, seeds and stem removed
3 tablespoons honey
Directions:
Preheat oven to 375 degrees F.
In a small saute pan, melt the butter over medium-low heat. Add the onions and cook until soft and golden brown, 3 to 4 minutes. Add the fresh corn and a pinch of salt and cook an additional 3 to 4 minutes, stirring occasionally. Remove from the heat and set aside to cool.
In a large bowl, stir together the flour, cornmeal, baking powder, 3/4 teaspoon salt, cayenne pepper, and cheese. In a second bowl, whisk together the buttermilk, oil, eggs, jalapenos, and honey. Add the buttermilk mixture to the flour mixture, stirring just until moistened. Stir in the cooled onions and corn.
Spoon the batter into lightly greased, regular size muffin tins, filling 3/4 of the way full. Bake muffins for 12 to 15 minutes or until golden and a toothpick inserted into the center comes out clean. Remove from muffin tins and cool on wire rack. Serve warm.
Yield: 12 muffins