After seeing this recipe on
Sweet Tea In Texas's blog
, I starred it because
I knew I wanted to plant zucchini in the garden this year and would need some different ideas to use it. I'm shocked, but we are starting to get zucchini already! I picked the first one last night and made this recipe for a quick dinner. I also picked 2 small red tomatoes and used those as well.
Instead of the 1/2 cup jarred jalapenos that the recipe calls for, I picked a hot pepper from our garden. I forgot to check which plant it was from. We have THAT many different kinds of hot peppers, but I do have a garden key I created so I can look them up if I remember where I got it.
Overall I liked this recipe a lot, but I also made changes and it turned out a little dry - nothing a little fat free sour cream couldn't fix! Some of my changes were to add chili powder and a little bit of jarred salsa to help with the dryness (I should have used even more).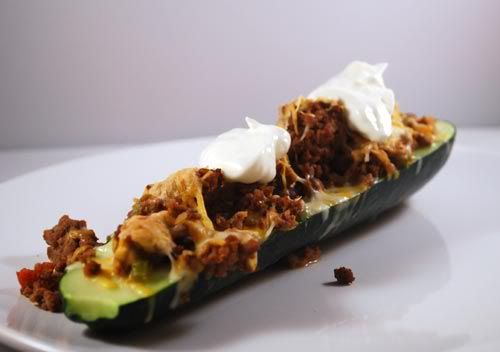 Source:
Rachael Ray
Ingredients:
2 Zucchini (halved lengthwise & seeded)
1 Tbsp Extra Virgin Olive Oil
1/2 pound ground beef
1 tsp cumin
salt & pepper
1 tomato, seeded & chopped
1/2 Cup jarred pickled jalapenos
1 bag of Mexican style shredded cheese.
Directions:
Preheat the oven to 450°. Arrange the zucchini cut side up in a 9-by-13-inch baking dish. Add 1/2 cup water to the dish, cover with foil and bake until the zucchini begins to soften, about 15 minutes.
Meanwhile, in a medium skillet, heat the olive oil over medium-high heat. Add the onion and cook until softened, about 3 minutes. Add the beef and cumin and cook, breaking the meat up, until just browned, about 4 minutes; season with salt and pepper. Stir in the tomatoes and pickled jalapeños
Uncover the baking dish, pour off the water and season the zucchini with salt. Fill with the beef mixture and sprinkle the cheese on top. Bake, uncovered, until the cheese is melted, about 10 minutes.