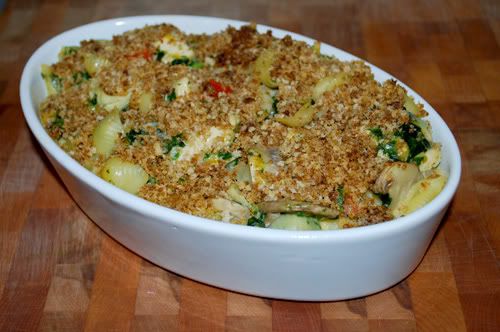 Last night for dinner we had this baked pasta dish and it turned out really good! We don't eat much pasta, but I love it, so I was happy to get this one into the dinner plans this week. I followed the recipe below almost exactly, my changes are noted - I also sauteed some sliced mushrooms and threw those in. This made quite a lot of food! Really any veggies you like would be a great addition. I would make this again using broccoli and/or bell peppers.
Source:
Cooking This and That
Makes 6-8 servings
Ingredients:
12 ounces farfalle pasta
(I had 1/2 box of shells to use up, so we used those)

1 small onion, chopped
1 tablespoon olive oil
pinch of basil, oregano, parsley
1/4 teaspoon red pepper flakes, or to taste
2 cups chopped cooked chicken
(I used 2 chicken breasts)

2 eggs
1 1/4 cups milk
kosher salt and coarse ground pepper, to taste
2 cups (8 ounces) shredded Monterey Jack cheese
14 ounce can artichoke hearts, drained and chopped
10 ounce package frozen chopped spinach, thawed and drained
1/2 cup oil packed sun dried tomatoes, drained and chopped
(I forgot to get this, so I just chopped a fresh tomato)

1/4 grated Parmesan cheese, divided
3/4 cup Panko bread crumbs
1/2 teaspoon paprika
2 tablespoons butter, melted
Directions:
Preheat oven to 350 degrees F. Coat a 3-quart baking dish with cooking spray. (Or, use this method to make two separate dishes.)
Bring a medium pot of water to a boil and cook pasta as directed, to al dente. Drain and set aside.
Heat the olive oil in a medium skillet over medium-heat. Add the onions and cook 3-4 minutes until translucent. Add the chicken and herbs and red pepper flakes and cook until heated through. Remove from heat, set aside.
In a large bowl, whisk together the eggs, milk, and salt and pepper. Stir in the chicken mixture, Monterey Jack cheese, artichokes, spinach, sun dried tomatoes, half of the Parmesan, and cooked pasta.
Transfer to prepared baking dish(es). Bake, covered with foil, for 20 minutes. In small bowl, combine remaining Parmesan, bread crumbs, paprika, and melted butter. Sprinkle mixture over pasta and continue baking, uncovered, 10 minutes more or until golden.