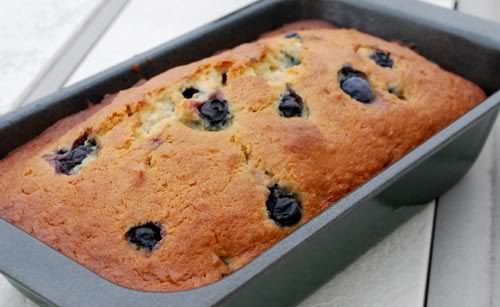 The overripe bananas are begining to take over my inside freezer. Today I had to do something about that. It's been a while since I've baked something for home, so banana bread sounded pretty good. I've seen a few recipes lately that also have blueberries and/or coconut in the banana bread, so I'm trying this Paula Deen recipe, with the addition of both! This recipe makes 2 loaves.
I ended up baking this for about 1 hour and 20 minutes because it was still gooey in the middle, but you can tell the outside got pretty dark. Despite baking it for an extra 20 minutes, it was still moist on the inside. I really liked the addition of coconut in this bread and will definitely add it again the next time.
Source:
Adapted from Paula Deen
Ingredients:
1 cup butter, softened
1 1/2 cups sugar
4 large eggs
3 cups all-purpose flour
1/2 teaspoon baking soda
1 teaspoon salt
2 cups ripe, mashed, bananas
1 cup frozen blueberries
1/2 cup coconut
1 tsp. coconut extract (I only added this because I bought it for the coconut cake, and really...when else am I going to use it?)
Directions:
Preheat oven to 350°F. Grease and flour two 9x5x3-inch loaf pans.
In a medium bowl and with an electric mixer at medium speed, beat butter and sugar until creamy. Add eggs, one at a time, beating well after each addition. Stir in flour, baking soda, and salt, stirring well. Add bananas and pecans, stirring just until combined. Spoon batter into prepared pans.
Bake for 1 hour, or until a tester inserted into center comes out clean. Cool in pans on wire racks for 10 minutes; remove from pans, and allow to cool completely on wire racks.