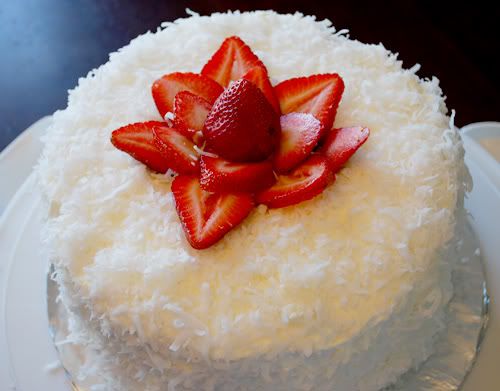 If you like coconut, this one is for you! It came out light and moist, with just the right amount of coconut flavor. The whipped topping was creamy and fluffy and with a bite of strawberry, was the best part to me.
The shortcut of using a boxed mix, with a little doctoring, makes this super simple to put together, but still homemade and great-tasting. Instead of a 9x13 cake, I wanted to make a 3-layer cake. One box mix will get you 2, 8-inch layers. I doubled the recipe and made 4, 8-inch rounds (knowing that at least one would probably fall apart and you have to have one to taste test, right?). I also made extra whipped topping (used 3 cups of heavy cream) since I had layers to fill and then frost the whole outside, too.
I made one other change after reading the reviews. It was recommended several times to only use 1/2 the amount of coconut cream and sweetened condensed milk to soak into the cake. I didn't want it to end up soggy, and I needed to be able to pick up the layers without them crumbling to pieces, so I followed that advice. It still turned out moist and flavorful on the inside, so I would stick to that amount the next time, too.
Source:
Allrecipes.com
Ingredients:
1 (18.25 ounce) package white cake mix
3 eggs
(I only used egg whites)

1/3 cup vegetable oil
1 cup water
1/2 teaspoon coconut extract
1 (14 ounce) can coconut cream
1 (14 ounce) can sweetened condensed milk
1 cup heavy whipping cream
1 tablespoon white sugar
1 cup flaked coconut
Directions:
Preheat oven to 350 degrees F (175 degrees C). Grease and flour a 9x13 inch pan.
In a large bowl, mix together cake mix, eggs, oil, water and coconut flavoring. Beat for 2 minutes and pour into 9x13 inch pan. Bake for 30 minutes, or until a toothpick inserted into the cake comes out clean.
In a medium bowl, combine coconut cream with sweetened condensed milk and stir until smooth. When cake comes out of the oven, poke holes into it in even rows using a large fork or chopsticks. Pour milk mixture over, allowing it to soak into the cake. Refrigerate for several hours or overnight.
In a large bowl, whisk cream until soft peaks form. Add sugar and continue whipping until stiff. Spread over cooled cake. Sprinkle top with flaked coconut.