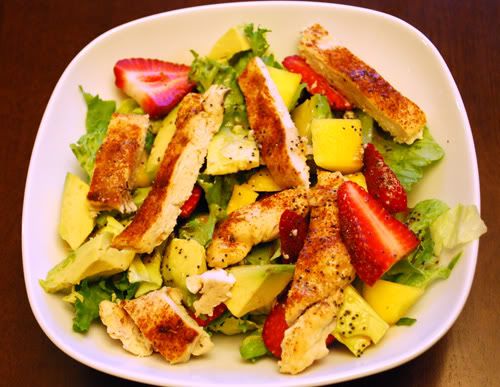 After seeing this salad on
Stephanie's blog, Macaroni and Cheesecake
, I starred it right away and added it to our menu for this week. It was great for a light dinner and super fast to throw together. It's funny that I wanted to make this because normally I am not a fan of fruit in my salad, or a fan or avocados. But, in the past year, I think I am starting to like avocados a lot more and decided to just give the fruit a chance.
I used a pre-packaged bag of salad mix and was able to get 3 salads out of this recipe (yay, leftovers for lunch!). I used 2 chicken breasts, pounded thin and then seasoned with blackened seasoning. I really liked the variety of flavors in the salad. The sweet strawberries, slightly tart mango (I think it was a bit under-ripe actually), and the creamy avocado came together very nicely mixed with the greens.
Taking Stephanie's lead, I made the same balsamic poppy seed dressing she used. Again, something I would not normally choose because I don't really care for balsamic vinegar. But, I went with it because I do like the other ingredients and have never had a poppy seed dressing before. It turned out just fine - but I personally did not care for it, solely based on the balsamic vinegar flavor. But if you like the flavor, it's great and I'd recommend it!
Even Trixie was scoping it out, hoping to get a taste of the chicken.
Source:
Adapted from Jillian Michael's Making the Cut
Ingredients:
4-5 cups mixed salad greens
5 large strawberries, sliced
1 mango, peeled and sliced
1 avocado, peeled and sliced
2 chicken breasts, grilled & diced
Directions:
In a large bowl, place salad greens, then add all other ingredients. Serve drizzled with the poppy seed dressing below, or the dressing of your choice.
Balsamic Poppy Seed Salad Dressing
Source:
Adapted from a post on the CookingLight.com Community
Ingredients:
1/4 cup balsamic vinegar
1/4 cup red wine vinegar
2 tablespoons honey
1 teaspoon Dijon mustard
1/8 teaspoon kosher salt
1/4 cup extra-virgin olive oil
1 tablespoon poppy seeds
1 tsp. splenda or sugar
1 tbsp. fat free mayo (optional)
Directions:
Whisk together all the ingredients.